Posted on
By Leica Store Amsterdam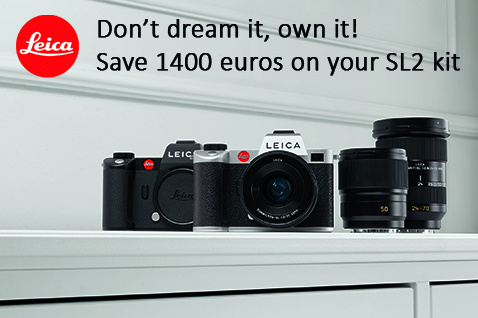 DON'T DREAM IT. OWN IT. Save 1400 Euro on your favorite Leica SL2 kit right now by utilizing your voucher.
Don't Dream it. Own it.
Photography is our passion, just as it is yours. Whether you're taking the first step towards a Leica or have been part of the Leica Family for years, this offer is our way of saying thank you for choosing to see and express your world with a Leica camera.
From September 4th 2023 through January 31st, 2024, you have the opportunity to receive a 1400 Euro voucher valid on one of six Leica SL2-System kits in our Store. 

How to get your voucher?
Go to the Promotion landing page on the Leica website. From there, you can sign in to your existing Leica account or create a new one if you don't have one already.
As soon as you are logged in to your Leica account, you will see a link to download your voucher. Follow the steps to fill in the form to request the voucher. Once submitted, the voucher will show in your online account. All voucher codes are unique. A copy of the voucher will also be sent via email. Make sure you do not forget to click the 'Activate Your Voucher' button on the bottom of the page.
The voucher can be redeemed at all participating Leica Stores, Boutiques and dealers. When shopping at Leica Store Amsterdam, it's unfortunately not possible to redeem the voucher in our online store. Please contact us via email or phone, so we can help you with the correct steps. 
We are here to help
Of course we are happy to help you out in deciding which of the 6 Leica SL2-System kits suits your passion and needs best. If you have any questions about the SL-System or this promotion, feel free to visit our Store during opening hours or contact us via email, phone or social media.